Silica for Food additive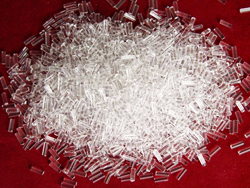 Technical Parameters:
| | | | |
| --- | --- | --- | --- |
| Specification | YRSIL-921 | YRSIL-220C | YRSIL-600 |
| Appearance | Super-fine Powder | Super-fine Powder | Micro pearl |
| Heating loss (105°C) % | ≤ 5.0 | ≤ 5.0 | ≤ 5.0 |
| Loss on ignition (1000±25°C)% | ≤ 8.5 | ≤ 8.5 | ≤ 8.5 |
| DBP Oil Absorption Value cm3/g | 1.8-2.8 | 2.8-3.5 | 2.0-3.0 |
| Silica(dry basis)% | ≥ 96 | ≥ 96 | ≥ 96 |
| PH-value(10%aqueous solution) | 6.0-7.0 | 6.0-7.0 | 6.0-7.0 |
| Heavy metal (Pb) mg/kg | ≤ 30 | ≤ 30 | ≤30 |
| As mg/kg | ≤ 3.0 | ≤ 3.0 | ≤ 3.0 |
| Pb mg/kg | ≤ 5 | ≤ 5 | ≤ 5 |
| Na2SO4 % | ≤ 4.0 | ≤ 4.0 | ≤ 4.0 |
| Average grain diameter d50 μm | 10-15 | 10-15 | 180-400 |
Standard: GB25576-2010
CAS NO: 112926-00-8 (7631-86-9)
EINECS No: 231-545-4
Product Description: The product is highly-purified white particle or loose powder with favorable fluidity. It can be used in powdery food to increase the fluidity of powder, or to improve the diffusion ability of dry powder in liquid. It is mainly used in caking inhibiter, thickener, stabilizer, flavor and spice dryer, etc.